The Kreativ Dental Clinic is unique. Nowhere else in Hungary will you find such a concentration of dental expertise and excellence. Our success is ensured by the following factors:
Only at Kreativ Dental will you find an on-site laboratory of this size and sophistication in Budapest.

The quality of the work leaving our laboratory is unrivalled and of a consistently high standard. Our laboratory is led by International Master Ceramist János Rendetzky who supervises an expert team of dental technical specialists qualified above European standards.
The Kreativ Dental Guarantee is the most comprehensive guarantee offered by any dental clinic in Budapest. If you look closely at the guarantee offered by other clinics you will notice a big difference in the guarantee terms. Most only offer a 2-3 year guarantee for extensive crown and bridgework and many wont even pay your flights if you need to return to Budapest. Kreativ Dental agrees to meet your travel and accommodation costs should you require any correction work covered by the guarantee.
All our dentists, dental technicians and assistants use the most advanced dental equipment from Germany and Japan to deliver dental treatmen t of the highest standard.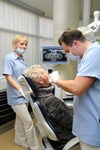 Our service
We are driven by quality of service as well as quality of treatment, and our team makes every effort to provide the best dental experience for you. We also provide a free taxi service to and from the airport.