Because we know that patients hate getting injections!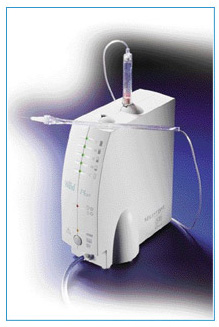 In February 2011 Kreativ introduced Milestone Scientific's award-winning STA Wand® Plus system. The unit combines patented, state-of-the-art computer-controlled injection technology with the dentist's training to achieve more precise injections, improved drug delivery and materially enhanced patient comfort levels. The cartridge holder, tube and handpiece are all disposable.
The Wand ® is a small hand piece that looks like a pen and is controlled by a computer delivery system allowing the dentist to numb even the most difficult tooth virtually painlessly! The mere sight of a dental syringe and the thought of having an injection by the dentist can easily make most patients wish they were somewhere else. For patients, this fear can be costly in the long run.

We've taken the fear, anxiety and pain out of injections. The Wand® is an excellent example of our efforts to bring you the latest technology and help you to have a pleasant experience in our surgery.
Most people who have had a bad experience with injections think that needles hurt because the skin is pierced, but this is usually not so! Most often, the pain was caused because the anesthetic was fired in too quickly. Obviously, it is possible for the dentist to control the speed with a standard syringe, but the idea of the Wand is to take out the "human error". This can be very reassuring for people with previous bad experiences.
We're not surprised our staff are already calling it 'the magic wand'.